New to the Ravio product: salary bands that are less painful and more powerful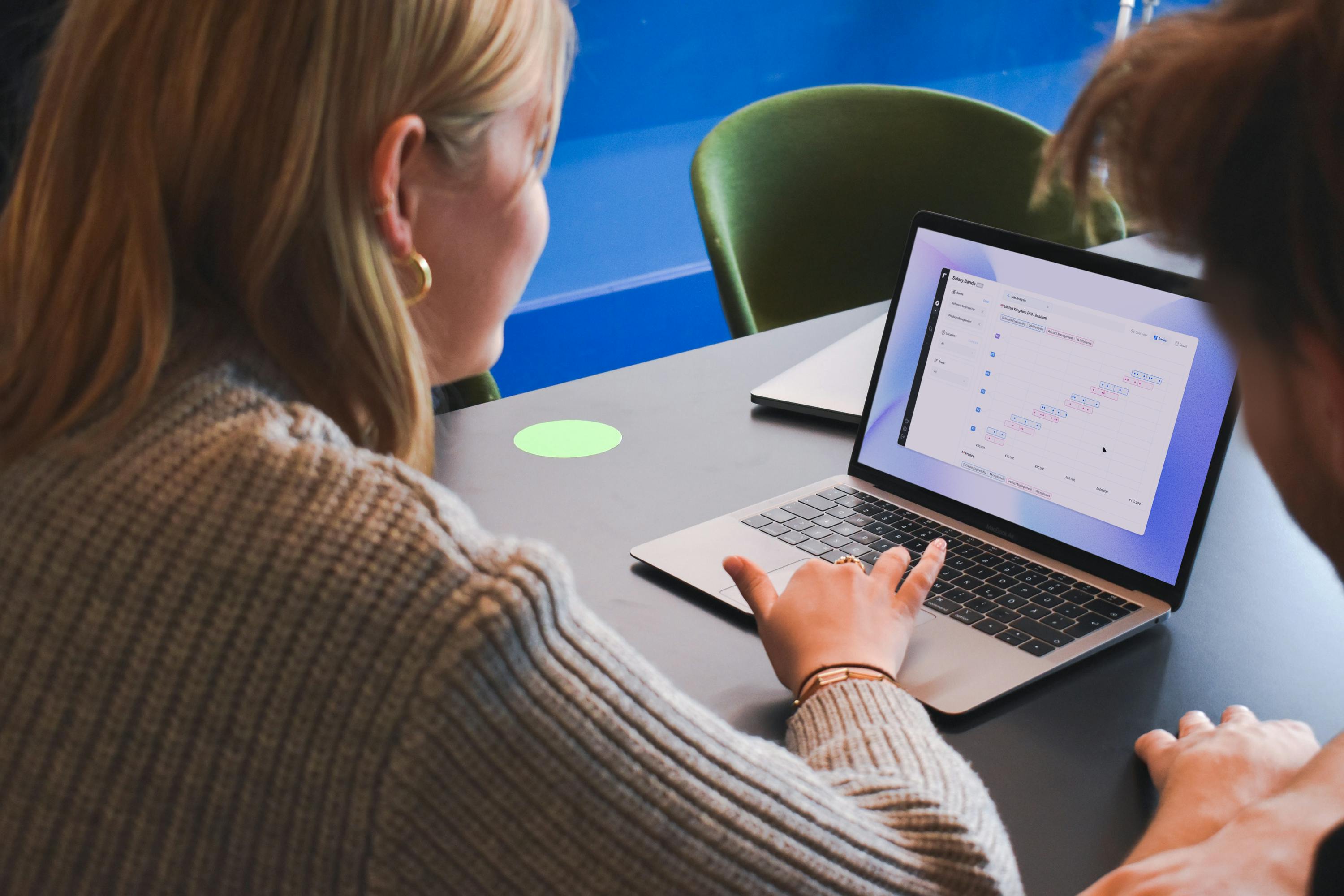 Managing salary bands and compensation structures is a complex and important task within any organisation – especially leading up to a compensation review cycle. 
In a perfect world, everyone is paid fairly relative to the market for their job position, job level, and location.
But… that means a lot of salary bands – and if you are using several spreadsheets to manage these bands, that comes with challenges:
Visualising salary bands is tedious (even if you're an Excel whiz)
Making changes to salary bands to fix any issues with band structure, or to remedy out-of-date market rates or pay equity issues
Sharing and communicating about salary bands with colleagues and employees can be overwhelming if everything is in a mammoth spreadsheet.
Introducing: beautiful, effective, fair, and easy-to-use salary bands – built from scratch or rescued from spreadsheets
Compensation bands form the foundation of any organisation's compensation framework, playing a pivotal role in ensuring fairness and clarity in compensation decisions throughout the company. Nevertheless, in the absence of effective tools to manage bands, they can quickly become obsolete, leaving managers and recruiters to make compensation decisions based on guesswork.
Ravio's new salary bands tool makes it easy to view, analyse, refresh, and share salary bands that are continuously calibrated against Europe's most reliable real-time talent market data.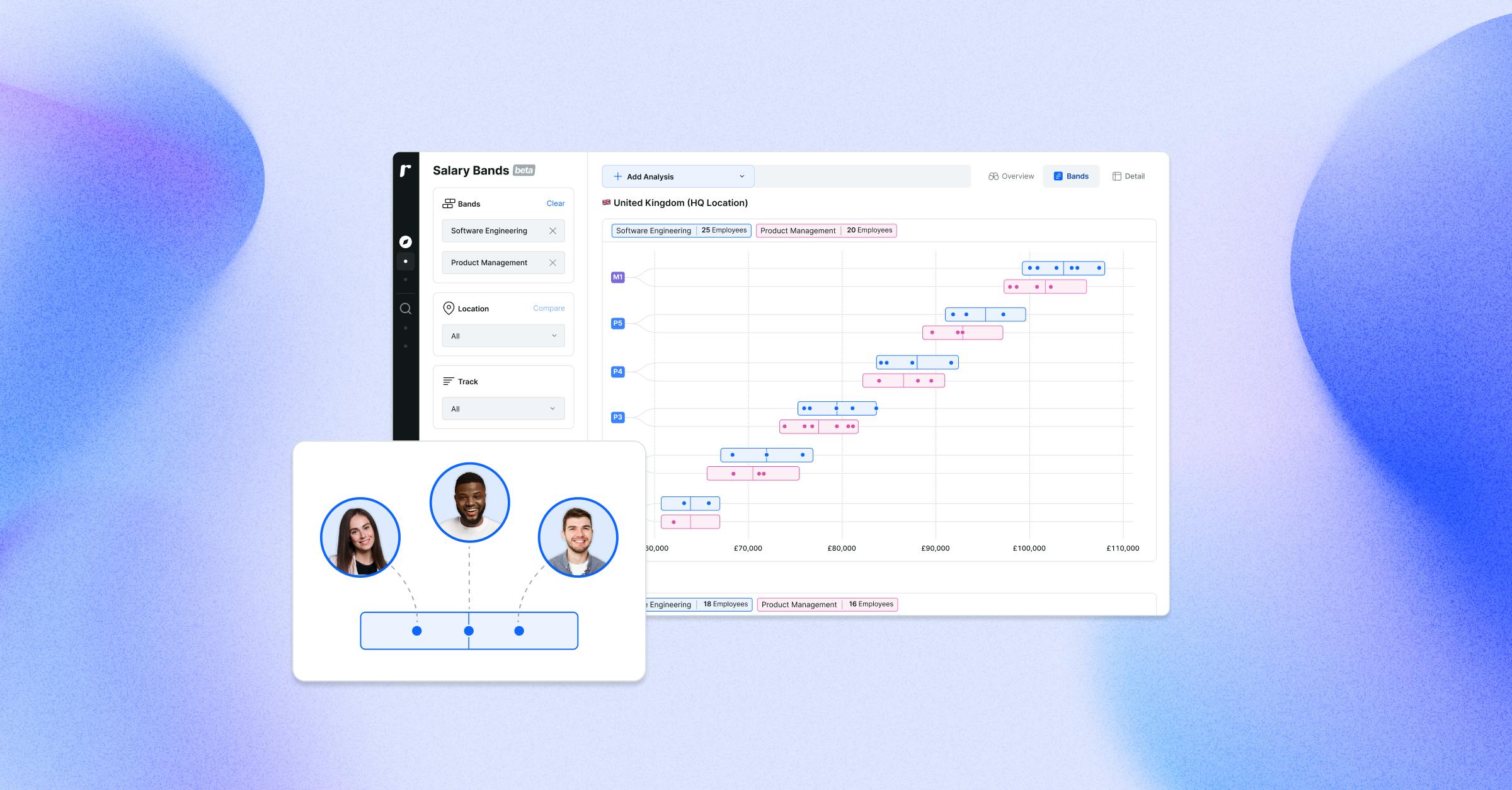 Clearly visualise salary bands, without the headaches
Confidently view and compare all of your salary bands in one beautifully simple interface. Banish tedious time spent scraping together sample-based benchmarks from multiple sources, then verifying, and adjusting salary bands across several spreadsheets shared through layers of stakeholders.
Protect your best talent
Ravio makes it easy to evaluate your bands across your company. Illuminate previously invisible gaps in pay equity and market competitiveness – backed by unprecedented visibility into real market data. Know exactly how your salary band structure is performing and immediately identify issues with internal pay equity, market competitiveness, or band definition – as well as how much it will cost to correct them.
Keep employees happy and competitively compensated by diving into each band to see how employees are distributed around the band, including by gender, and monitor if you are falling behind the market in real-time.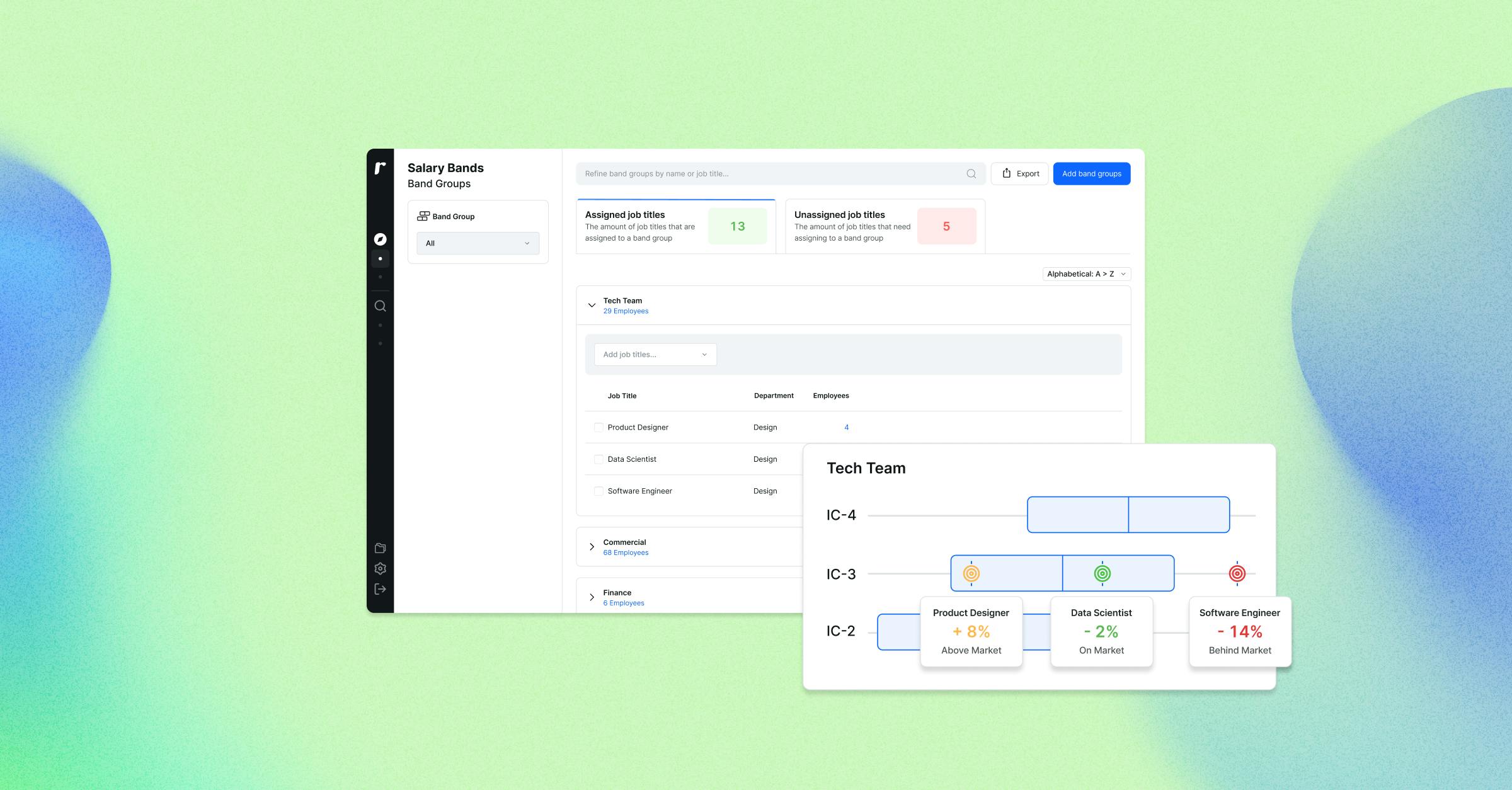 Lead a fair and easy comp review cycle
When it comes to refreshing your bands, delivering your people objectives within your budget constraints shouldn't feel painful. Ravio wants to make it easy to let a fair comp philosophy lead the process. That's why Ravio's salary bands make it simple for you to take action and improve your band structure, with full confidence knowing that the final outcome will be fair and equitable.
It's also easy to update your band ranges to reflect current market benchmarks, and split out high paying job positions into a separate band.
Launching a new market? Build a band structure for a new location in a couple of clicks – all using the same Ravio platform that you use for reliable benchmarking data.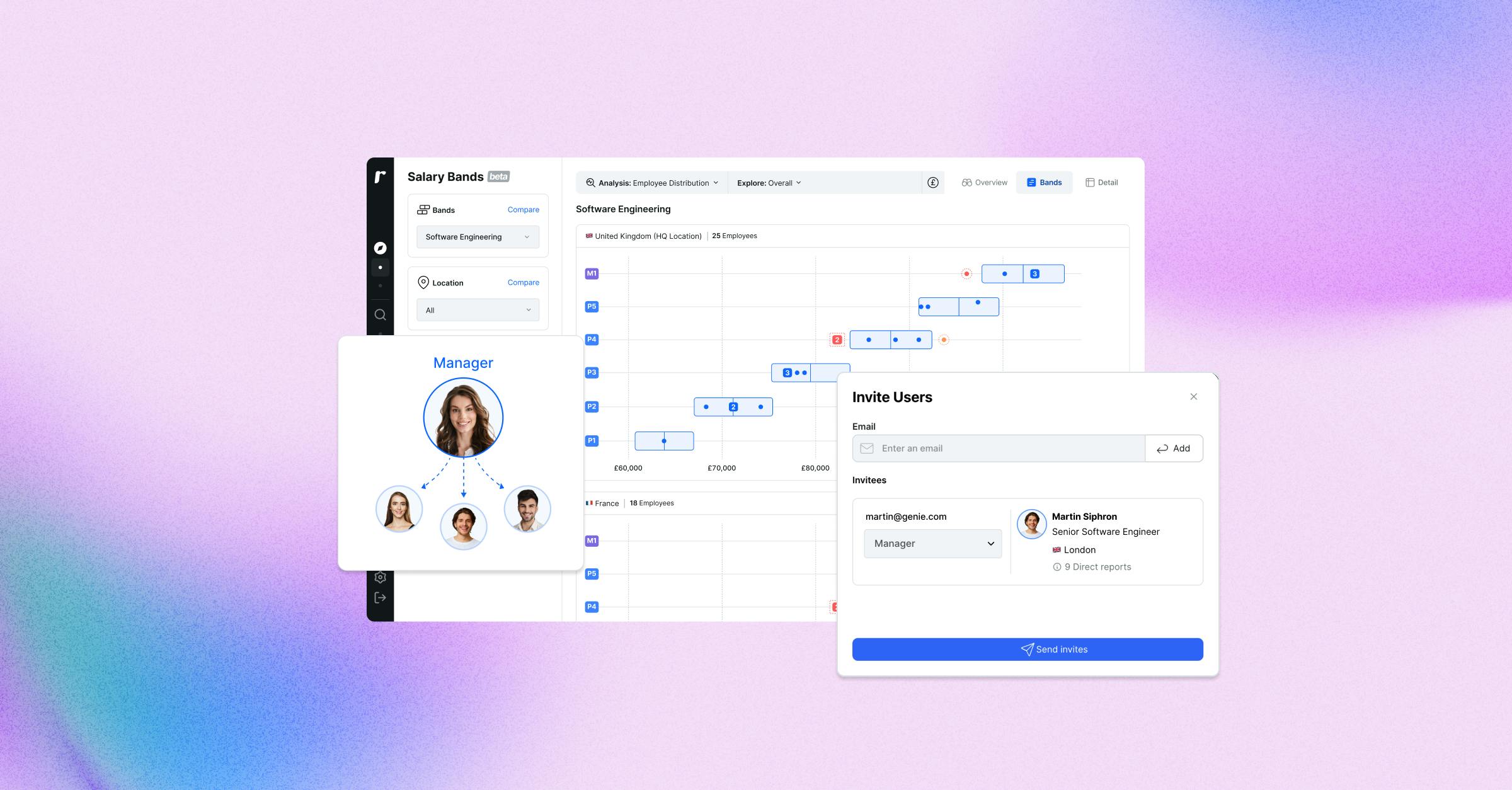 Grow trust across the business
Last but not least, you are uniquely positioned to grow trust across the business using your new salary bands, and facilitate transparent compensation through managers, recruiters, and employees using salary bands as a source of truth.
Everything you need to adjust, optimise, and share your salary bands confidently with any stakeholders from senior leadership to employees themselves is here – ensuring that every comp-related conversation can be contextualised with real-time market data.
All of this is made easy for you in Ravio, where you can share best-in-class salary bands across your organisation with granular permissions:
Managers can view how each of their reports sit within the band structure, and feel empowered to have conversations about pay progression with their teams
Each employee can understand their pay and progression relative to their band in a highly transparent way
Recruiters have a source of truth when it comes to giving offers to candidates, with dramatically reduced risk of bias.
Getting started with Ravio salary bands
Get started with Ravio's new salary band product to facilitate a smooth and easy comp review cycle. Advocate for your best people and help your business attract and retain the best talent Europe has to offer.
To learn more, visit our website!